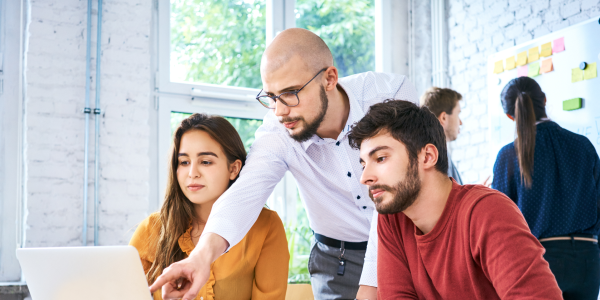 Student satisfaction is critical to the success of Vocational Education and Training (VET) institutions.
Satisfied students are more engaged in their learning, more likely to reach their full potential, and more likely to continue with further study at the same institution.
Indeed, the importance of student satisfaction is best highlighted by the costs associated with student dissatisfaction.
The costs can be enormous, and include:
Student dropouts as students fall behind, or are not satisfied with teaching quality in their current course

Reputation damage, including on-line reviews and sharing of opinions with friends, by dissatisfied students

Drop in target enrolments, e.g. overseas students, in a particular course

Lost opportunities in future course enrolments as students do not graduate through a number of qualifications at the same institution
Student satisfaction is critical to the success of tertiary education institutions. Satisfied students are more engaged in their learning, more likely to reach their full potential, and more likely to continue with further study at the same institution.
Through working with tertiary education institutions around the world, Loop has gathered a number of insights with respect to the most significant drivers of student satisfaction. These are detailed below:
Clarity about what success looks like in a subject
Assessment coordination
Consistent approaches by teachers across subjects
Timetabling clashes that impact student attendance
Practical experience or support connected to employment
1. Clarity about what success looks like in a subject
Students often cite a lack of clarity about what is required from them in a particular subject. This might range from being unclear about what will actually be covered in the course, how the content connects to other subjects, or even what is required in terms of assessment.
While teachers often make every effort to communicate this information via repositories, such as an LMS, some common issues emerge for students:
The subject overview is overly long or verbose, which is particularly challenging for international students

Students often receive this information all at once from all their subjects, and often it is early in the term when they are just settling in

Documentation may be missing or links broken, meaning that students don't have a full picture of the requirements

Teachers don't check-in with students to check their understanding about what success looks like in the particular subject
2. Coordination in terms of assessment
The most stressful time for any student is assessment. And for many students this stress is compounded because their assessment all seems to fall at once.
Students are often surprised there is little coordination from teachers in the same course as to when assessment is due. Too often, assessment dates overlap for students.
As such, they are unable to complete the assessment or perform at their best. In some instances, students are forced to withdraw from a subject because the workload becomes overbearing.
3. Consistent approaches by teachers across subjects
Students often cite the discrepancies they face with respect to different teachers – all of whom are teaching to the same course – as a major source of dissatisfaction with their education experience. These discrepancies might relate to:
Conflicting content taught by different teachers on a course
Different expectations with assessment
Varying approaches to marking assessment
Varying use of tools and technologies in class
The discrepancies create confusion and frustration for students. Just as they are feeling comfortable with one approach they are exposed to a different way of doing things without adequate explanation as to the variance.
4. Timetabling clashes that impact student attendance
Students are facing more pressures outside their study than ever before.
These pressures include:
A requirement to work in order to support their study

Additional classes, such as language supports, in order to be able to perform at the required level

Family pressures, such as children, particularly as more mature students enter tertiary education

Additional pressures related to applying to jobs, such as internships and interview preparation, in light of increased competition for employment
Students often mention that timetabling is inflexible, making it very difficult for them to attend to life matters and get the most from their education. Students want to attend in person but often find timetabling inflexibility as a barrier to their participation.
5. Practical experience or supports connected to employment
Most students undertake tertiary study in order to find employment. This is becoming increasingly difficult as the contest for jobs intensifies. Accordingly, students seek practical skills and industry connections as part of their tertiary education study.
While many institutions offer such skills and connections as a source of differentiation, students don't always feel such opportunities align with their expectations. Or, these opportunities are limited and they don't get to make the most of them.
Quick wins to increase student satisfaction
If you're a tertiary education course or institution seeking to improve student satisfaction, our research suggests the following things to focus on:
Support your teachers to provide clear, plain-English guidance about what is required to be successful in a subject – and check-in early with students to validate their understanding

Encourage teachers across a course to support each other through improved co-ordination relating to content, assessment and use of tools and technologies to ensure a consistent student experience

Work with students – designing from a student point of view – to understand how timetabling of subjects could be improved to maximise attendance

Ensure that practical experience and employment opportunities are made available to all students – and keep refining offer to make sure they align with current student needs
Loop's research has also demonstrated that each of these drivers of student dissatisfaction is not only addressable, but that the faster they are addressed the lighter the impact for the institution. Indeed, dealing with small issues in the moment not only shows a responsiveness from the institution but also reduces the likelihood of a larger, more terminal issue arising.
In addition, we have noted that despite the importance of understanding real-time student satisfaction, most institutions rely upon data collection methods that have several shortcomings:
Lack of data through not having a compelling medium to collect data

Data collected, analysed and distributed long after the fact

Not having appropriate anonymity functionality to ensure that all views are gathered
Again, this means that small things can become larger problems that could have been easily dealt with.
---
---
Loop helps identify, quantify and understand student satisfaction to enable VET providers to be more agile and responsive to issues, and make change when and where it counts. Read more about Loop for tertiary providers.