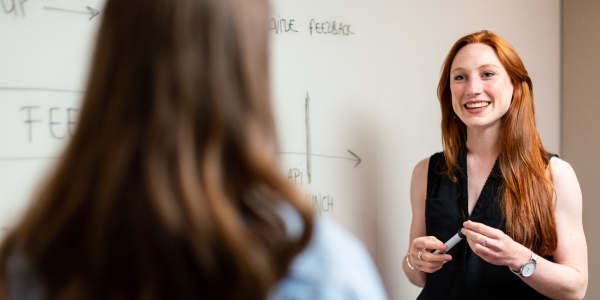 Early Career Teachers (ECTs) in their first years after university face numerous challenges. The teaching environment is undergoing change at a rapid pace. New teachers have limited experience trying new pedagogical approaches, gauging the impact of delivery and discovering how to fostering a sense of inclusion and support student wellbeing.
For new teachers, gaining and acting on professional feedback needs to be as rapid as the shifts in the environment. Schools that understand and endeavour to support these new teacher's development create a strong teaching force and improve student outcomes.
To help new teachers become more effective, they need honest and actionable feedback from a variety of sources. One of the most vital sources of feedback is from those they spend the most time with: their students.
Teachers can leverage student feedback in a variety of forms. However, one method is to:
Attempt a new teaching or pedagogic approach,
Gather student feedback from the experiment,
Share and reflect on the feedback with a mentor or colleague,
Implement changes based on the data, and
Gather feedback again to understand the impact of the changes and if they were effective in increasing desired outcomes.
Student feedback not only improves teaching practice but has intrinsic flow-on benefits for students. Students feel more supported, improving morale and wellbeing; it also helps them reflect on their own learning experience; "How am I doing now? Where am I going? What do I need to get there?". This mindset enables learning agency and develops reflective learning habits for their future education and beyond.
Loop has been used in schools and government education department training programs to equip teachers and ECT's with the tools and methodology to generate actionable student feedback. This has helped them to evaluate their teaching and learning programs. Additionally, student feedback aids teachers to set actionable learning goals and success criteria, and to understand, evaluate and modify teaching to inform planning.
There are many practical examples of how Loop helps achieves meaningful change through feedback. Peter, a high school early career teacher, used Loop to ask students how he could better support their learning.

"I loved how a student said 'I need the classroom to be a lot quieter.' They felt that the noise level got too loud for them, and they weren't enjoying the experience. So, I have spent the last couple of weeks changing the class around – meditation and some other techniques to calm the class down."
How to empower students and teachers with meaningful feedback
Equipping ECTs with an effective and easy feedback process, like Loop, gives teachers the skills and tools they need to develop and improve while providing students with a more inclusive and supportive learning environment.
Loop is a powerful tool for encouraging continuous teacher improvement, increasing student satisfaction, and enhancing learning outcomes.
To find out how you can provide your teachers or school with the student feedback tool that is changing the way Australian educators understand their students and deliver learning by clicking here.
Loop is an Australian platform linked to the Evidence for Learning Toolkit, and has worked with some of the leading schools and institutions in Australia and globally.