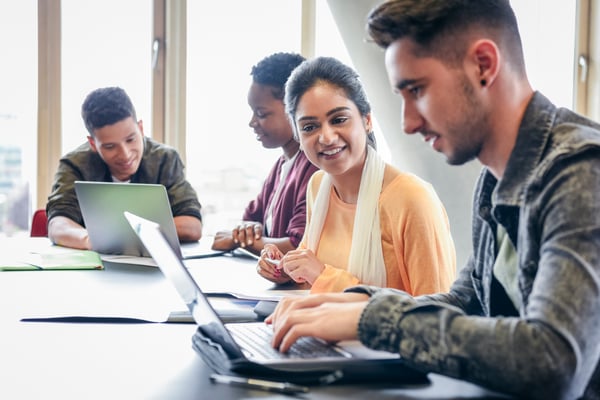 Education research continues to support the role of Student Voice in improving educational outcomes. Establishing continuous feedback loops between students and teachers is vital to strengthening learning and teaching.
However, there is comparatively less research on how technology can be best used to support the activation of Student Voice. Very little has been written about the role of technology in making student responses more targeted, easier to collect, and more straightforward to analyse.
We have spoken extensively with teachers, students and administrators to understand how technology can best support Student Voice. Here are our findings below.
Technology is a big time saver
Digital technology provides an easy way to gather student responses and activate Student Voice. With the right tool, teachers can upload any question in seconds and immediately receive responses. This means teachers can gather multiple responses in an instant, rather than having to speak to students individually.
Technology also helps at the point of collation and analysis. Replacing paper surveys or exit tickets reduces manual handling and helps teachers to get back precious time.
Technology enables anonymous responses
Teachers are very good observers of what happens in their classroom. However, even the best teachers are unable to fully be inside the mind of each and every student. By using technology that includes appropriate anonymity controls, teachers see two benefits. First, they gather more student responses. Second, they gather more honest, authentic responses to enable a deeper understanding of their students.
Ease of use matters
While technology enables general time savings, these savings are dependent upon tools that are easy to use. Education institutions should work with their teachers and students to ensure they are able to make the most of any technology provided. This means not only providing the right level of training, but ensuring that the technology selected was developed with ease-of-use in mind.
Teacher control over data
While the world of TripAdvisor and Google Reviews make feedback a public activity, feedback for learning and development is most effective when it is private. Teachers want to ensure their data is for their eyes only.
Any technology selected should put individual teachers at the heart of its use, ensuring that privacy and data concerns are rightly addressed.
Technology is most useful when it accommodates student preferences
Providing students with flexibility with when and how they can provide responses increases the likelihood of gathering useful student feedback. Certainly, engaging students on platforms that behave like those they are familiar with significantly increases the quantity and quality of student responses.
Naturally, Teachers and educational leaders should think about how this system works in practice while adhering to individual school policy on technology use.
As technology is used increasingly to support Student Voice, it remains important for institutions and teachers to select technology that is fit-for-purpose and which full supports student engagement.